The Sg Petani Speed Champ Challenge !!
Hot after winning the title at Alor Setar , Aimi is anxious to give his best shot at the Speed Champ Competition in Sg Petani , which is around an hour's drive from Alor Setar . We don't want to be called "jaguh kampung" and we're eager to prove our mettle in Sg Petani where the competiton is expected to be tougher than in Alor Setar .... Below is the track in SP Parade ...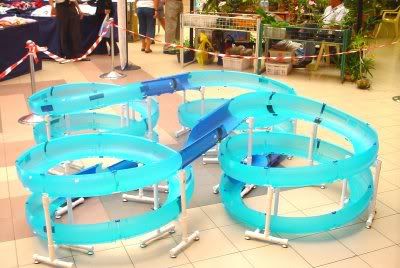 As usual , our strategy is to enter two racer , Aimi being the primary racer and Aizan will play the support backup role . Total competitor for the day is around 18 persons , mostly local chinese boys from Sg Petani , and Nur Aizan is the
ONLY GIRL
that took part in the competiton !! Go Aizan !!! :-)
Competition is fierce with the crowds going rowdy at times ( the parents mostly - haha ) The addition of loud music at times adds to the suspense of the competition .....


After setting aside all the other competitor easily , Muhammad Aimi becomes the First Ever , Speed Champ Champion of Sg Petani !! Congrats to all !! And of course , i myself is the Undisputed Winner of the "Constructor Championship" as Aimi's Speed Champ racer is built from scratch by me ..... :-)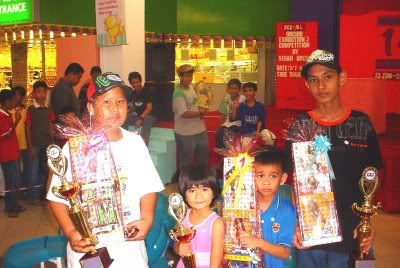 A very satisfying outing for the family , and below finally , the picture of the actual Speed Champ Racer used by Aimi to win both the competition in Alor Setar and Sg Petani ... until next time , take care !! :-)




PS : Even tho it doesn't look like much , its the Champion !! ( The cellophane tapes are just for effects ... it makes the competitor underestimate us .. hahahahaha ):-)