The Momentous Speed Champ Competition !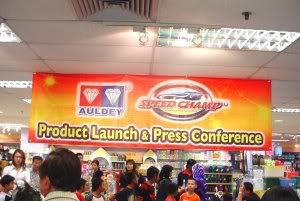 It was an overcast Friday morning in Alor Setar , the date is 7th July 2006 . Today is a big day for Aimi and Aizan cause today is the day of the first ever , Speed Champ Competition in Alor Setar . For the uninitiated , a speed champ racer is like an "akira" motorbike ( from the legendary Japanese Anime - Akira ) which is played / raced around a specialised track built specifically for this type of racer . The competition venue is at Star Parade , alor setar which is situated right smack in the middle of town ...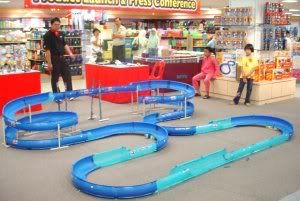 At 3:00 pm , the venue is already full of particapants and families members eager to witness the competition . The air is full of tension as participants sampled the track that is going to be used for the competition . The pic of the competition track as per above ...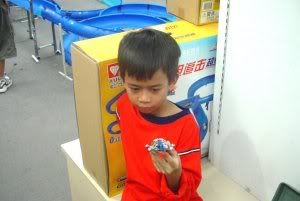 Aimi will be the main racer for our family and Aizan is going to act as the backup racer . Aimi's racer have been modified to the maximum allowed within the rules , while Aizan's racer , sadly is just the standard edition . :p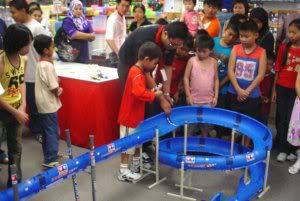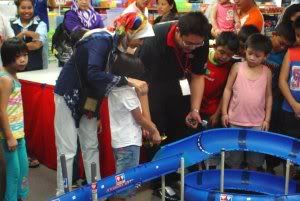 As the competition starts , its clear that Aimi is one of the favorites even tho his racer is one of the most "unattractive" ones around due to the broken up cover ( which we sealed up using a cloth tape ) anyways , it is a "speed" competition , not a beauty pageant ... :p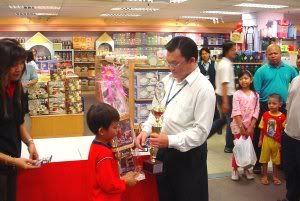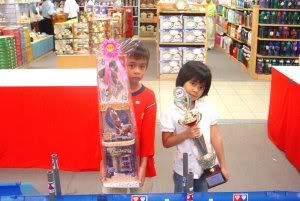 After defeating 9 other contestants , Aimi finally emerges as the First Ever , Speed Champ Champion For Alor Setar !!! :p It was a hard fought win and the Legend of Aimi , the Speed Champ Racer , has begun .... congrats to all !!

PS : The family will be going to Sungai Petani on next Sunday to participate in the Speed Champ race is over there !! Will keep everyone posted ... :-)