The Cupcakes Episode ...
Just before going back to Seremban that wet Friday morning , we went to Taman Tun Dr Ismail ( quite near to Faten's & Michaels house ) to get some cupcakes . Seen their pics on the internet and we thought we should try it ...

The stall selling the cupcakes is located inside TTDI Market Plaza , behind the TTDI Pizza Hut . Although it rains quite heavily that morning , our spirits are not dampened ....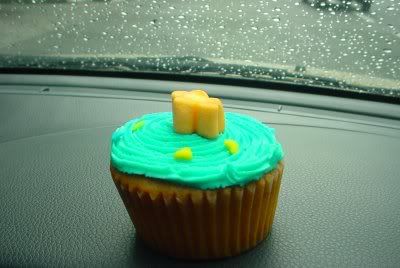 Look at the beauty above ! Its almost too pretty to be eaten . The above is just the plain butter variation . IHMO , the colourful icing on top that makes it beautiful .

Now it is partnered with the Tiramisu variation . Either way , a winning combination . And they taste , as lovely as they look . And at RM2.50 each , its a very good deal indeed ... :p